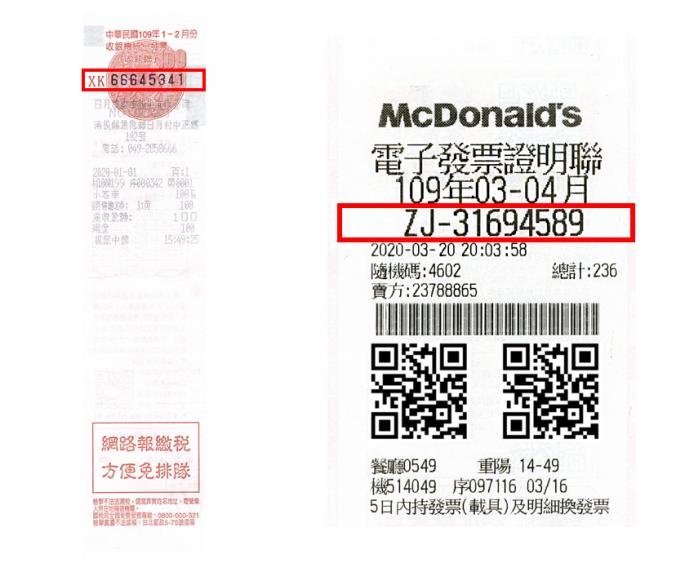 Ever wonder what the numerical code at the top of receipts in Taiwan is used for? These numbers are for a lottery run by the government, and you have a free entry!
中文版本請點此
日本語版についてはこちら
한국어 여기를 클릭하세요
Known in Chinese as 統一發票 (Tǒngyī Fāpiào), the bi-monthly receipt invoice lottery was created to encourage legal tax reporting by giving consumers an incentive to purchase at stores that legally report sales taxes. Every two months, sets of numbers are randomly drawn that correspond to the eight numbers printed along the top of a legal receipt.
The receipt lottery is open to everyone in Taiwan, including foreigners, and can be easily exchanged for prize money at a nearby convenience store with proof of identification (for amounts up to 1,000). Larger winnings can be redeemed at banks. Make sure the winning receipt has been stamped by the shop the original purchase was made from.
Receipts from purchases made using an Easycard (悠遊卡) may also be electronically stored onto the card, which may be then quickly verified and redeemed by using the terminal at convenience stores during the redemption period. These receipts are known as "e-receipt" or 電子發票 (Diànzǐ fāpiào), and clerks at convenience stores will usually ask if the customer wants an e-receipt when paying by an IC card. Saying paper should be enough to let the employee know to print a paper receipt, and saying card should clue the employee to store the receipt onto the Easycard.
It's common practice for people in Taiwan to save all receipts from daily purchases and later check if any receipts have won. It's a free lottery, might as well see if you've won.
I have so many receipts...what's the fastest way to check? First check if the last 3 digits are a match, then work backwards. Also try using this tool for convenience.
Looking for the least tiring way to check your receipts for winners? Use the tool on this page and just enter the last 3 digits. It will tell you if you won or lost very quickly and easily, no app downloading necessary!
Lottery Results for September-October 2023 (R.O.C. Year 112)
72054514
Match all 8 numbers and win 10,000,000
92488868
Match all 8 numbers and win 2,000,000
98111935, 57355279, 74926745
Match all 8 numbers and win 200,000
Match the last 7 numbers and win 40,000
Match the last 6 numbers and win 10,000
Match the last 5 numbers and win 4,000
Match the last 4 numbers and win 1,000
Match the last 3 numbers and win 200
Redeemable between 6 December 2023 - 5 March 2024
The above information is provided solely for reference purpose. For specific rules and regulations, and to view previous receipt lottery results, please consult with the Ministry of Finance. This information is obtained from the Ministry of Finance.