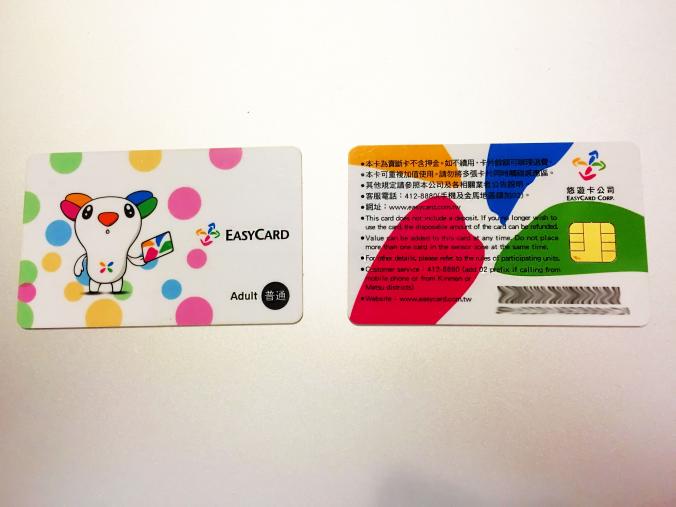 What is the Easycard?
Similar to the Octopus Card in Hong Kong, the Taipei Easycard, or 悠遊卡 (Yōuyóu kǎ), allows you to conveniently ride the Taipei MRT or Bus systems without the need to constantly grab change out of your pocket. 7-11, Family Mart, and other convenience stores and supermarkets also accept the Easycard for payment. If you have a student ID of any kind, make sure to purchase the student Easycard because there is a discount of NT$3 on bus fares (it may not seem like a lot, but it adds up).
Where can I purchase an Easycard?
Easycard can be purchased at all MRT stations and convenience stores such as 7/11 or FamilyMart. If purchased at 7/11, the card costs NT$100 and contains no balance, so be sure to recharge the card with some credit. All credit can be later refunded at MRT stations.
What are some places I use my Easycard?
Public Transit
Convenience Stores
Family Mart (

全家

)
7-11
OK
Hi-Life (

萊爾富

)
Grocery Stores
Wellcome (

頂好

)
Matsusei (

松青

)
Taxi Service
Some taxis companies accept Easycard for payment, and some will even offer 30% off as a promotion.
Public Parking
Parking garages around Taipei
Street parking meters
Taiwan Railway Administration (TRA)
10% discount on local trains taken between Chungli (

中壢

, Jhongli, Zhongli) and Keelung (

基隆

) or Ruifang (

瑞芳

).
Street parking meters
Miscellaneous
Taipei Zoo admission
Select long distance, intercity busses (

客運

)
Functions as member card for some establishments
Other tips and pointers
The first generation EasyCard (without chip) works far more effectively at the Youbike public bicycle rental kiosks.
The EasyCard is recommended for all public transit, especially train rides from Hsinchu through Taipei out to Ruifang.