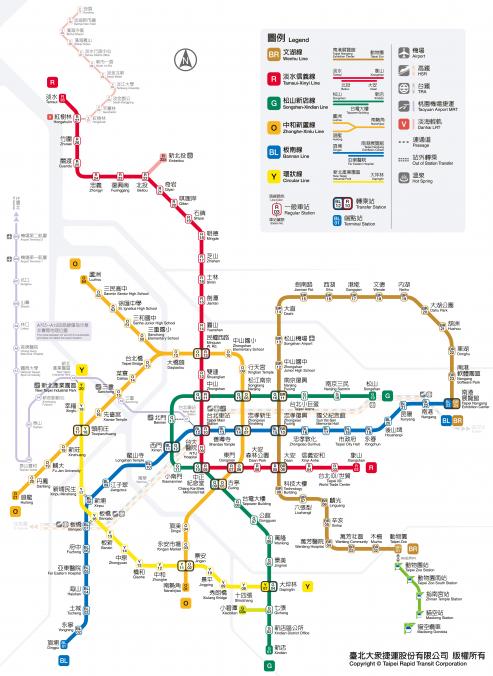 What is the Taipei MRT?
As the largest metro subway system in Taiwan, the Taipei MRT serves about 2 million riders daily. It is fast, convenient, and, most importantly, CLEAN! The subway system is very easy to navigate, and is both bilingual in Chinese and English (including the Chinese languages of Mandarin, Taiwanese Hokkien, and Hakka). Transfers between lines are relatively close to each other, and the stations serve most areas of Taipei.
The MRT is well integrated with other transit systems in Taipei, including High Speed Rail (高鐵), standard train services, express trains to the airport, local city busses, intercity long-distance busses, and tour busses.
One important thing to note in the Taipei MRT is that lines are rarely referred to by color name, instead they are referred to by their terminal station. This naming convention is a bit confusing for visitors who are not familiar with the city, so we will use line colors for simplicity.
This line is unique in that it is entirely above-ground and is a driverless system. Of interest to visitors along this line is Taipei Songshan Airport, Miramar Mall and Ferris wheel (美麗華), Muzha District, Taipei Zoo, and access to the Maokong Gondola. Make sure to get a spot at the very front or very rear of the train to get a better view of the city. As a side note, the escalators connecting the brown and red interchange at Da'an Station are uniquely designed with a flat section in the middle.
This line travels the entire north-south distance between Tamsui north of Taipei City and Xinyi District. Please check the destination name of the train as it arrives at the station. If you wish to travel to Tamsui, board a Tamsui train instead of a Beitou train (as this train terminates a few stations before and you will have to change). Same for Xiangshan- and Da'an-bound trains. Taipei Main Station is the main interchange station for red and blue. Beitou Hot Springs are located around Xinbeitou station. Interesting destinations around the red line also include Yongkang Street, Taipei 101, and Taipei Expo Park (花博).
This line travels from Songshan Railway Station and Raohe Night Market looping the city down through Ximending, Shi-Da Night Market, and Gongguan to Xindian District and Bitan (碧潭) riverside area, with a bus connection to Wulai Atayal Aboriginal Village and Hot Springs (烏來).
This line is primarily for commuters living in New Taipei City, and travels from Nanshijiao in the south to both Xinzhuang and Luzhou Districts in the west, looping through downtown Taipei. The orange line branches at Daqiaotou station, so if you wish to travel west past this station into New Taipei City, please be aware of which train you are boarding. Huilong (迴龍) trains travel south towards Xinzhuang, and Luzhou (蘆洲) trains travel north towards Luzhou.
This line travels from the southwest edge of Taipei to the east through Banqiao, Ximending, Taipei Main Station, and all of Taipei City's downtown areas past Dongqu (East) and Xinyi Districts nearby Taipei 101 (Taipei City Hall Station) out to Nangang District. This line, along with red, will be the most frequently utilised by travellers visiting Taipei, and is frequently congested due to its role as the main line in the city. West-bound trains terminate either at Far-East Hospital or Dingpu, however, generally visitors will never travel that far out into the suburbs, so it's not really necessary to focus on which specific train you are boarding.
This line operates within New Taipei City limits, serving the communities of Xindian, Zhonghe, Banqiao, and Xinzhuang with connections to other lines into the downtown. Currently, only the southwest portion of the 'circle' is operational from Xindian District running northwest towards the Airport MRT station at New Taipei Industrial Park (A3).
This line is a gondola cable car service that runs from Taipei Zoo Station (Brown Line terminus) up the mountain to the top of Maokong, a mountain-top tea destination.
Although not part of the Taipei MRT system, the Taoyuan Airport MRT line is integrated into the system and accessible at a few stations including the terminus Taipei Main Station (Red and Blue interchange in the downtown) and Sanchong Station (Orange line west of the city).
Light Colour Lines
The light colour lines are short-distance branch lines, hence the light colour. These lines are of limited interest to visitors except possibly the Xinbeitou Branch of the red line to visit hot springs.
Where are the Best Attractions?
How to Purchase a Ticket
There are multiple ways of buying a ticket for the MRT: The most popular being single-use Token and the recommended EasyCard.
Single-use Token

If you don't ride the MRT or bus too often, then the token is probably more convenient for you. Just walk up to the ticket machine, look upwards at the map to find the destination, and buy a ticket for that amount (from NT$20-NT$65 depending on distance). The machine is in English and is quite easy to use. Children under age 6 are free. Be sure to hold on to your token to deposit it at the gate when you exit the station.

EasyCard

Using an EasyCard is highly recommended due its ease of use and convenience. Using the EasyCard on the MRT gives a 20% discount, and saves travelers some headache while figuring out fares (especially on busses to places like Jiufen, Wulai, or when the fare varies). Just put a bunch of money on it, then refund it when it comes time to leave at any MRT station. For more information about the EasyCard, how it works, where to get one, and why you absolutely need one in a city like Taipei, click here. Remember to swipe on both entry and exit.

One-Day Pass

This ticket is valid for unlimited travel on the Taipei Metro until the end of the current day for one passenger. Available at all metro stations for NT$150.

24HR Taipei Metro Pass

This ticket is valid for unlimited travel on the Taipei Metro for 24 hours of usage for one passenger. Available at all metro stations for NT$180. Passes are also available for 48 and 72 hour durations.

Group Tickets

These tickets provide a discount of 20% off for groups of 10 or more, and 30% off for groups of 40 or more.

One-Way Bicycle Fare

Passengers carrying a bicycle should purchase an NT$80 ticket including bicycle and passenger for all distances. Bicycle access available on weekends and national holidays, 6AM to closing. No access available at Tamsui, Taipei Main, and all Brown Line stations.
| Destination | MRT Station |
| --- | --- |
| Taipei Arena (台北小巨蛋) | Taipei Arena |
| TWTC Exhibition Hall 1 | Taipei 101 World Trade Center |
| TWTC Nangang Exhibition Center | Taipei Nangang Exhibition Center |
| Taipei Cultural Center | Nanjing Fuxing |
| Novel Hall | Taipei City Hall |
| National Concert Hall | CKS Memorial Hall |
| National Theater | CKS Memorial Hall |
Hours of Operation
Opening Time: The first trains leave from their respected terminal stations around 6AM.
Closing Time: The last trains leave from their respected terminal stations around 12AM midnight.
Route
Peak (7-9AM, 5-7:30PM)
Off-peak
After 11PM

1

Wenhu Line
Every 2-4 mins
Every 4-7 mins
Every 12 mins

2

Tamsui-Xinyi Line
Every 2-4 mins
Every 4-7 mins
Every 12 mins

3

Songshan-Xindian Line
Every 2-4 mins
Every 4-7 mins
Every 12 mins

4

Zhonghe-Xinlu Line
Every 2-4 mins
Every 4-7 mins
Every 12 mins

5

Bannan Line
Every 2-4 mins
Every 4-7 mins
Every 12 mins
Xinbeitou Branch
Red Line - Beitou
Every 7-8 mins
Every 10-12 mins
Every 12-15 mins
Xiaobitan Branch
Green Line - Qizhang
Every 10-20 mins
To view specific information about each station (times for first/last train), and to visit the MRT Website, click here.