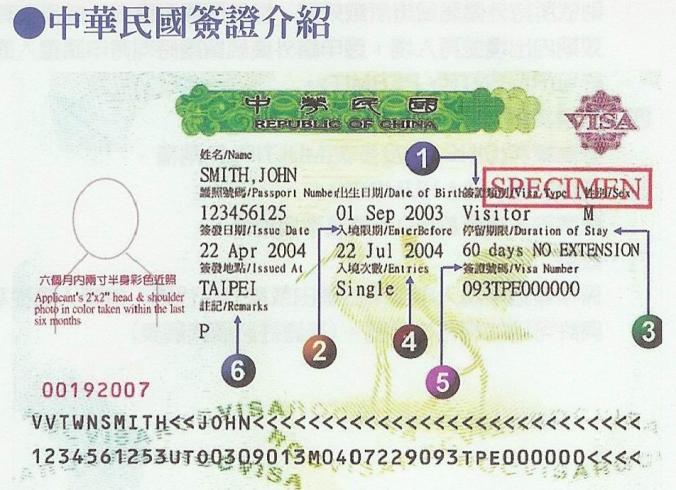 The Republic of China (Taiwan) allows certain passport holders visa-free entry for tourism, visiting friends or relatives, social visits, doing business, attending exhibitions, fact finding, and international exchanges.
In order to be approved for visa-free entry, make sure your passport is valid for at least 6 months (3 months for Japanese), can prove you do not intend on staying indefinitely in Taiwan (either by a flight reservation or some type of itinerary), and have no criminal record or other extenuating circumstances in the ROC.
Visa-free entries are allowed at the following ports of entry:
Taiwan Taoyuan Intl' Airport (TPE), Taipei Songshan Airport (TSA), Taichung Airport, Chiayi Airport, Tainan Airport, Kaohsiung Int'l Airport, Taitung Airport, Hualien Airport, Kinmen Airport, Magong Airport, Keelung Harbour, Taipei Harbour, Taichung Harbour, Kaohsiung Harbour, Hualien Harbour, Shuitou Harbour (Kinmen) and Fuao Harbour.
The following passport holders are allowed a 90 day visa-free stay:
USA, UK, Canada, Australia, Japan (日本), South Korea (대한민국), Germany, France, Andorra, Austria, Belgium, Bulgaria, Chile, Croatia, Cyprus, Czech Republic, Denmark, Estonia, Eswatini, Finland, Greece, Guatemala, Haiti, Honduras, Hungary, Iceland, Ireland, Israel, Italy, Latvia, Liechtenstein, Lithuania, Luxembourg, Malta, Marshall Islands, Monaco, the Netherlands, New Zealand, Nicaragua, North Macedonia, Norway, Palau, Paraguay, Poland, Portugal, Romania, San Marino, Slovakia, Slovenia, Spain, Sweden, Switzerland, Tuvalu, Vatican City State.
The following passport holders are allowed a 30 day visa-free stay:
Singapore, Malaysia, Belize, Dominican Republic, Nauru, St. Kitts and Nevis, St. Lucia, St. Vincent and the Grenadines
The following passport holders are allowed a 14 day visa-free stay (entry before 31 July, 2023):
Philippines, Thailand (ประเทศไทย), Brunei
Citizens of the Philippines 🇵🇭:
Visitors to Taiwan for tourism purposes are permitted a 14 day stay until 31 July, 2023. For other cases, please apply for e-Visa or ROC Travel Authorization Certificate (described below).
Additional documents required for Philippines, Thailand, Brunei citizens:
Proof of hotel accommodation, travel booking info (leaving Taiwan), and/or sponsor or host contact information, as well as proof of sufficient travel funds.
Citizens of Indonesia, Vietnam, Cambodia, India, Myanmar, and Laos:
Visitors to Taiwan are permitted a 30 day visa-free stay if holding a residency or valid visa (including electronic) for USA, Canada, Schengen States (Europe), UK, Japan, South Korea, New Zealand, or Australia. Old visas may also be used, as long as the visa has expired less than 10 years prior to the date of arrival in Taiwan. Work permits are not allowed. After completing application documents online, print out the ROC Travel Authorization Certificate and bring to Taiwan with passport. The certificate is valid for 90 days, with 30 days each stay, multiple entry. After 30 days, the user may leave Taiwan and re-enter with the same certificate for another 30 days. To extend the duration of the certificate, apply for another one more than 7 days before the expiration of the current certificate.
Hong Kong and Macau passports are allowed a 30 day entry after application of Exit & Entry Permit (入台證) either at the airport after landing or in advance online (港澳居民網路申請入臺證申請書). Due to the political situation between Taiwan and the PRC, HK and Macau passports will not be stamped and visitors are required to apply for an Exit & Entry Permit. HK BNO passports are treated the same as HK SAR passports. For more info, please visit the Bureau of Consular Affairs website. The ROC government recommends that HK/Macau/PRC residents that hold a secondary passport use that passport to enter Taiwan. Dual nationals with previous visits to Taiwan on the secondary passport will be denied entry on the HK/Macau/PRC passport.
Mainland Chinese (PRC) passports have a unique set of rules and restrictions for exiting the mainland when intending to enter into the Taiwan Area. Please consult a local travel agent for more exact details. Please note that passports from Belize, Eswatini, Saint Christopher and Nevis, Saint Lucia, Honduras, or Tuvalu listing China PRC as place of birth may not be eligible for visa-free entry.
Emergency Passport Holders: Emergency passports from visa-waiver countries are allowed to visit the ROC, and should apply for a landing visa upon arrival. USA emergency passports are visa-free for 90 days.
The following countries are eligible for Working Holiday (Youth Mobility):
Austria, Hungary, Poland, Slovakia, South Korea, New Zealand, Australia, Belgium, Canada, Ireland, UK, Germany
If you need to apply for a visa, please visit your closest ROC mission abroad. Please be aware that except for the 15 countries that recognise the ROC, the ROC representative office will be titled similarly to Taipei Economic and Cultural Office (such as in the United States). For a complete list, please visit the Bureau of Consular Affairs website.
More articles on GuideToTaipei.com about Taiwan's history:
This information is accurate as of 19 August 2020, and sourced from the ROC Bureau of Consular Affairs.