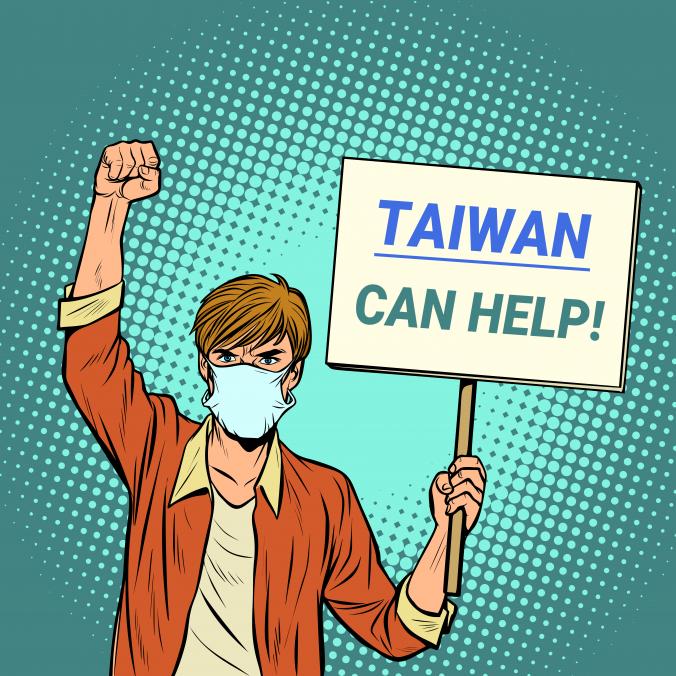 Despite its proximity to the source of the contagion outbreak, Taiwan's fight against the coronavirus has been exemplary and a source of pride for the people of Taiwan. There have been local transmissions in the low digits, and most cases have been from Taiwanese nationals returning from overseas then subsequently put into quarantine. Total daily cases in the "wild" (meaning discovered in individuals who were not already in quarantine) is in the single digits.
In 2003 when the SARS outbreak reached Taiwan, the public was shocked by the severity of the disease and its potential for spread, and they developed protocols and facilities for handling the outbreak and prepared their medical system for the inevitable next pandemic. When this new pathogen, known locally as the 'Wuhan Pneumonia', began spreading worldwide, Taiwan took the lessons it learned from the SARS experience to be proactive at protecting its population from this new coronavirus.
Taiwan's location made it originally vulnerable to this contagion outbreak, considering the amount of Taiwanese who are working in the mainland of China and the amount of tourists from the mainland of China who enjoy visiting Taiwan. Although the island is separated by a body of water, frequent air and sea traffic between the two territories (including Hong Kong) could allow infected individuals to easily cross borders.
Towards the end of 2019, Taiwan used its own intelligence to confront the spread early on. Due to suspicion regarding the facts surrounding the outbreak at its origin, Taiwan sent its own specialists to investigate. Feeling misled, Taiwan immediately began health inspection and quarantine procedures at its ports of entry for those coming from infected regions, and was one of the first regions to limit travel to and from affected areas. This early action helped prevent the sudden onset of the virus transmission among the general population.
What is the response?
Currently, steps taken to limit community spread include a public education campaign on proper coughing etiquette and good hygiene practices, providing hand sanitizer at most entryways, and requiring visitors to first disinfect and check temperature before entering facilities, including restaurants and shops. Governmental efforts have increased the amount of available surgical masks available to the public by online reservation or pharmacy pickup, and are currently allotted 3 masks per week by usage of a National Health Insurance card. After the SARS episode, wearing surgical masks had become standard etiquette for those who may feel they are sick, and was an established practice well before this epidemic for the protection of self and others.
Taiwan has been most successful with aggressive home quarantine measures and contact tracing of confirmed cases, quarantining those who may have received the virus transmission from the confirmed patient. Taiwan's skills with high technology have been used to create 'digital fences' to immediately locate individuals who have breached their quarantine.
Those traveling on public transportation are required to wear a surgical mask, as are those entering government facilities. Private individuals are highly encouraged to wear masks when in public areas.
International borders are currently closed to those who do not have residency or citizenship in Taiwan.
There are daily press briefings from the Taiwan CDC describing new cases and developments, as well as government plans and actions to confront the virus. Government transparency in Taiwan has inspired the general population to continue their lives as normally as possible. The democratic government on Taiwan is unable to violate the rights of its citizens, and has instead chosen the path of education and openness to unite the population.
Vaccines are available for the public, although Taiwan struggles to obtain adequate dosages due to political pressures.
How is Taiwan helping internationally?
Taiwan has always been a helpful partner with relation to healthcare needs and the development of healthcare facilities in developing countries. Recently, Taiwan has pledged to support the United States with donation of domestically-produced face masks and medical attire to assist the needs of the people in the United States, Taiwan's primary ally. Taiwan has expressed its desire to continue to assist the needs of other countries with medical supplies and expertise, and will continue to assess the situation as more of its domestic production facilities come online and can produce these materials. Taiwan wants to help and be a responsible member of the international community, despite its political isolation.
What is the severity of cases on the island?
Taiwan's CDC has been very transparent about every single case on the island, and provides detailed information available on its website in both Chinese and English. There are very few cases of 'random' community spread, and most local transmissions have been from contacts or friends and family members of imported cases.
As of 19 March, 2020, entry for foreign tourists into Taiwan has been temporarily suspended. Citizens, residents, and authorized business travelers are allowed entry with a mandatory quarantine period of 14 days. Taiwan's new cases are mostly from a small group of traceable clusters, and local community-based transmission remains very low.
There is no panic in Taiwan, and many members of the public feel confidence in their handling of this issue. While there is some anxiety about the spread, when comparing the situation on this island to countries around the world, Taiwanese feel they have this under control. Life here continues normally, with the exception of large scale event cancellations (such as concerts and sports events) and some school cancellations where a member student was tested positive. There have not been any instances of forced community quarantine or limitations of freedom of movement in this democratic society.
How is Taiwan handling the epidemic?
Where Taiwan's handling of this crisis differs from other countries is its transparency and openness with regard to the effects of the virus transmission and strategies to contain the spread, and its accurate reporting of statistics daily, easily accessible by the Taiwan CDC's website. While other countries have been actively misleading their populations to downplay the severity of the pathogen transmission capabilities and cover up for deficiencies in their healthcare systems, Taiwan has been open and honest about where their health system should be improved and laid out plans with accurate timelines to inform the public of the situation. While in the beginning there were limited supplies due to the sudden onset of the outbreak, such as face masks, the government worked to procure larger supplies and has been rationing them effectively via the National Healthcare Insurance system for easy and cheap purchase by the public at local pharmacies. Excess supplies are now being donated to other countries worldwide.
For those who have tested positive or are suspected and are under quarantine (whether that be hospital-based or home-based), each patient has been assigned a government-issued cell phone for daily contact with health authorities and to track whereabouts. Those who attempt to escape their quarantine are easily found and monetarily penalized US$30,000. Patients who are citizens or legal residents are able to utilize National Healthcare Insurance for treatment costs, as well as receive a small subsidy due to missed wages.
The public is also combatting multiple disinformation campaigns of photoshopped imagery and 'insider sources' spreading false statistics, of which the Taiwan Investigative Bureau estimates over 70% originating in China and created for Taiwan audiences. The Taiwanese public is also currently facing harassment from the leader of the WHO, all while denying them representation and participation in the organization.
What is unique about Taiwan?
Taiwan is an island nation with a unique history and modern developmental model that differs from other countries in the region. One of the 'four Asian tigers', Taiwan's economy exponentially grew starting in the 1970s based on high technology, manufacturing, and exports. This economic success led to Taiwan's evolution from authoritarian rule into democratic rule by the end of the 1980s. Taiwanese people are proud of the process they have made, and cherish their well-developed democratic freedoms and civil rights.
Taiwan is the 'lighthouse of democracy' in Asia, and proof that an ethnic-Chinese population and culture is compatible with open democracy, even passing landmark legislation to permit same-sex marriage, the first and only in Asia.
Today, Taiwan is the world leader of semiconductor engineering and production, and the major research and development location for high-tech equipment. While products such as iPhone, Xbox, PS4, and other electronic products may be physically manufactured in other locations due to wage cost savings, make no mistake that many of these companies are actually based in and managed from Taiwan.
Taiwan enjoys a first-world standard of living with affordable costs, an excellent social security system and universal healthcare, as well as a favorable business climate and, despite its diplomatic isolation, excellent international links. The people on Taiwan are well-known for being polite and warm-hearted, benefit from a well-regulated, open government, and enjoy excellent agricultural products produced domestically, such as a massive variety of fruits and other luxury products such as high mountain tea. Tourism on Taiwan is still in its infancy as people worldwide are slowly discovering how beautiful this island truly is.
Taiwan's healthcare system is one of the best.
Quality of healthcare in Taiwan is consistently rated one of the best systems in the world due to its efficiency of care, cost advantages, and universal coverage of all citizens and resident foreign nationals. Previously based on the American model of multiple insurance agencies individually negotiating with healthcare providers, during Taiwan's democratization the government worked to improve healthcare for their citizens, resulting in the 1995 creation of the National Healthcare Insurance scheme, a government-chartered, non-profit corporation which operates along capitalist principles to attract private and public healthcare provider members who then compete within this single-payer marketplace to attract patients to their services. This model is a resounding success in Taiwan and has increased the average level of quality of service over the years, eliminating bad providers via the free market. Patients may choose any hospital or clinic and any doctor they prefer, and, while popular doctors may have extended waiting times, there is never any life-threatening delays or fear of not receiving medical care. The system is very cost-effective and highly prized by Taiwan's residents.
Since it is prevented from becoming a member of the World Health Organization due to political issues with the mainland of China (PRC), Taiwan is isolated from international participation in cooperation over handling the pandemic. Ironically, this exclusion may be one of Taiwan's strengths with regard to handling the outbreak, considering the WHO's slow response and confusing messaging, and Taiwan's distrust of any information and data coming from the mainland of China, as Taiwan is uniquely positioned to handle this outbreak due to its experience with SARS and its understanding of the mainland of China and their government procedures. The fact that it is not a member of the WHO means that it does not need to listen to their sometimes flawed recommendations which are based on inaccurate data. Many members of the Taiwanese public feel the WHO is beholden to the government of China and helps them propagate false information, especially since the government of China's refusal to acknowledge Taiwan and the WHO's refusal to share viral data with Taiwan resulted in unnecessary SARS deaths, and that Taiwan and its population of 23 million people has much to offer the world with regard to healthcare and disease prevention, however is flatly rejected from the organization.
Useful Links: